first of aLL, i'd Like to teLL you that this is my first post entry of this journaL..
its aLL about kei.kun...
this is KEI.sama..'
Former Member Of J.J.Express
Now in HEY!SAY!JUMP

Debuted no longer Johnny's Jr.
Name: Inoo Kei
Profession: Singer
Birthdate: 1990.06.22
Birthplace: Saitama
Blood type: A
Height: 170.3 cm
Weight: 48 kg
Agency: Johnny's Entertainment
Former groups: J.J Express
Admiried senior: KAT-TUN
Trivia
Charming Point: Hand (beautiful like girl's hand.
Fav. Food: Cooked Rice, Udon, Ramen
Valuable Thing: Letters from Fan Club
First Love: Primary School Year 1
Fav. Type of Girl: Cute, Kind
Talent: Basketball, Drawing, Guitar, Piano
Dream: CD Debut
His favorite color is sky blue, and he hates the color green and yellow.
His hobby is learning English. He likes to study new English words.
The type of girl that he likes is a girl who has manners and has common sense.
Doesn't like Mathematics and English, despite the fact that he keeps studying English. He hopes someday he would learn to love this subject.
On September 23, 2001, he entered Johnny & Associates as a trainee.
On September 21, 2007, he began performing as a member of

HEY SAY JUMP!

He joined Johnny's because he thought he could eat delicious food. But, turns out, the food was just normal.
He has a younger sister, who he said has a bad attitude and mouth.
He named his sisiter as 'KEIRI'
His big dream to have a sisiter was fullfilled
He can play the piano. He is seen playing the piano for performances of Star Time.
Is often seen wearing caps in paparazzi pictures.
He passed his high school exams and got into the Department of Architecture, School of Science and Technology at Meiji University.
Was named like the cartographer.
Was in junior Unit 'Kitty gym' with Yaotome Hikaru.
He is very afraid of riding a roller coster.
He and Yaotome Hikaru are close friends.
He was the leader of jj express.
He likes rice
He has 2 dogs
Dont usually talk a lot during interview but he talks a lot when he was with the other members
He is well known as the 'Pre pre Pretty' along with Matsumoto Kohei
He currently attends Toyo High School
He plays the piano in 'Hey Say JUMP's song STAR TIME when preformed live
Variety Shows
* The Shōnen Club
* YOUtachi
* Hi! Hey! Say! (3 November 2007 - Ongoing)
Drama


* [2006] Gachi Baka! as Inoue Yuusuke (guest episode 2)
CM


* Bennesse Profile
uhmm..
pLs comment me f you wanna add some of this informations...
pLs continue supporting INOO KEI...
Lets spread the INOO VIRUS!!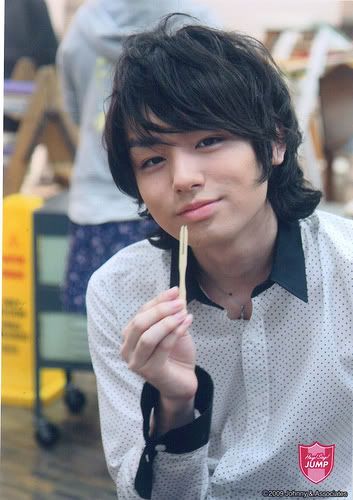 uhmm...